CRISP services -- Benefits -- Safety Inspection -- Free Information -- Info / Contact
Online Crane Training Course
North American Industries offers an array of services (collectively known as CRISP) to optimize the safe, reliable operation of your overhead bridge, gantry, and monorail crane(s). At your option, your plan may include one or more of the following: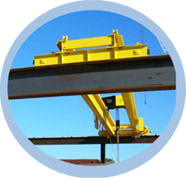 Periodic Safety and Performance Inspection
Preventative Maintenance
Repairs
Operator Training
Classroom Training
Load Tests
24/7 hotline
Recommended Spare Parts
Crane Re-Tasking, Refurbishment & Modernization
Written Reports of the Services
CRISP services are based on OSHA regulations, CMAA recommendations, and insurance requirements (refer to OSHA 1910.179, ANSI/ASME B30.2, and CMAA Specification 78). CRISP has been developed utilizing North American Industries' vast experience in overhead crane engineering, manufacturing, safety and service.
Protect your investment, increase your safety, and improve your efficiency.
We provide timely, quality service by dispatching local, qualified and experienced crane technicians. We can perform a single service visit or provide a renewable single or multi-year plan to address your specific needs.
You will address OSHA regulations, save time, and decrease costs. North American Industries knows the importance of having a safe, well-maintained and inspected crane. Regular inspection and maintenance will:
Prevent accidents and maintain safe operation of your bridge, gantry, or monorail crane through inspections and operator training
Avoid unnecessary interruptions in production
Ensure peak efficiency throughout your crane's long life
Address potential problems before they become more costly or inconvenient
Reduce overhead costs associated with parts, lubricants and tools
Reduce downtime by scheduling when production will not be interrupted
What Does a Safety Inspection Include?
Depending on your overhead crane's duty cycle and environment, North American Industries can provide periodic and/or frequent safety inspection and maintenance visits. A typical inspection includes the following:
A complete inspection of all major components that complies with our interpretation of the appropriate OSHA regulations and CMAA recommendations
Full lubrication of all required components
Inspection of bolted and welded connections
Minor adjustments to both electrical and mechanical components, including but not limited to: limit switches, control systems, brakes and trolley flange
Operational tests through full range of functions
24/7 Customer Service Hotline
Detailed inspection report along with summary of issues to be addressed
Written recommendations for repairs, spare parts inventory, and additional maintenance requirements