We Have the Expertise to Design for Your Needs
Ready to Handle Complex Projects

Because of our engineering resources, NAI often takes on complex projects – from 50-ton outdoor gantry cranes for road and bridge repair to custom-built indoor lifting systems for manufacturing applications. Our engineers are undaunted by challenges in meeting unique specifications. For example, we can design cranes for high duty cycles, tight dimensional constraints, precision, long loads, and extreme weather conditions.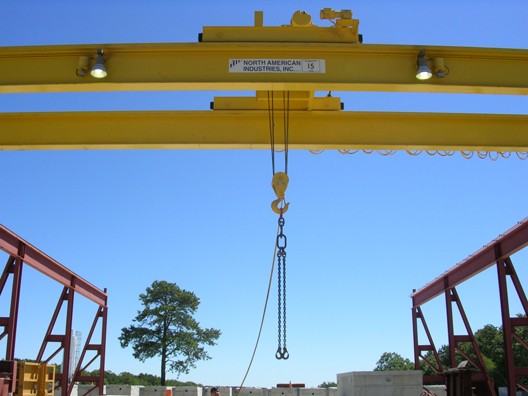 Engineering Process

You don't have to worry about which type of crane is appropriate for your application. The NAI team partners with you to determine what will best suit your needs; then we design and build the solution tailor-made for you.

Needs Identification
Once assigned to the project, your engineer will study your order, coordinating with your sales engineer and project manager to find out what your priorities are. Once your engineer has gained a thorough understanding of your needs, they will provide you with CAD-generated clearance drawings for initial approval, and will make any necessary revisions to ensure dimensions and details are correct.

From Plans to Completion
Our engineering department becomes involved early on in the sales process and stays involved through the installation process until your crane is up and running. Our engineers, with more than 60 years of combined experience in the crane industry, work closely with every department, as well as confer directly with you, the client, to bring the concepts you envision to life. NAI engineers work in harmony with our sales department and production staff to custom-design every item, on every order.
In addition to custom-designing every detail of your project, NAI engineers advise our shipping department on what information to send with your equipment, including literature and assembly manuals. They even calculate how best to fit the different pieces of your particular system to your preferred shipping method to ensure they are complete and intact when they arrive at your facility.

Once they hand your project over to the final phases of production and delivery—and into the capable hands of the skilled workers in our fabrication shop—your engineer will remain available for questions and consultations as the equipment is produced.

EVERY Order Tailor-Made to Your Needs

It's not just specialized cranes that receive the full engineering treatment. Every crane we build receives much individual attention from our engineers. Whether it's a fully fabricated bridge crane, a set of components, or even a single component or switch, every order placed at NAI is designed in strict compliance with the latest industry standards—including CMAA, ANSI, AISC and OSHA—and tailor-made to your needs.

Our engineering department and thorough production process are unique assets to our company, and we are confident that we can engineer and fabricate our equipment to conform to your expectations. With our engineering expertise, we know what we're talking about—and because of the importance we place on exceptional customer service, we listen to what you're saying, every step of the way.

If you order an overhead bridge crane from NAI, you will procure for your company a long-lasting and well-constructed piece of equipment that will provide you years of service in an integral aspect of your day-to-day operations.