Effortless Communication
If you choose to work with us, we will assign a project manager to your account. This person will be your point of contact to drive your project forward and personally handle all of your needs. From beginning to end, your project manager will carefully oversee the design and fabrication of your project. We pride ourselves on forming partnerships with our customers rather than simply making a sale.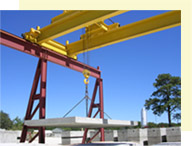 We stand by our product with a strong commitment to customer service. Our 24-hour customer service hotline is available after hours. If you ever have any questions about our company or the products and services we provide, don't hesitate to call us at (781) 897-4100.
Engineering Capabilities
Our engineers are undaunted by challenges in meeting unique specifications. For example, we can design cranes for high duty cycles, tight dimensional constraints, precision, long loads, and extreme weather conditions.
You don't have to be a crane expert to work with us. We partner with you to determine the type of crane appropriate for your application. We use our engineering expertise as an invaluable resource to advise you on the best solution for your needs; then we design and build the crane tailor-made for you.
Our production floor produces over 500 cranes each year. These cranes are customized for customer applications and we have experience designing cranes for applications in a wide variety of industries.
The Best Material Handling Solutions
How do overhead cranes compare with other material handling alternatives?
Cost Effective Alternative to Lattic Boom and Hydraulic Cranes
Where once highway and heavy construction contractors would almost exclusively use towers and crawlers for job site lifts, they are now increasingly turning to overhead cranes for bridge, subway, and tunnel construction and repair. Gantry cranes....
can be resold for a high return or converted for the next application
weigh less, placing smaller loads on soil and structures in the work area
can operate on an active bridge deck
can be powered by diesel generators and manipulated by radio control, requiring fewer operators and laborers across an extended workday, resulting in lower operational costs and safer material handling
The Advantages of Switching from Forklifts to Cranes
Cranes Cause Less Product Damage
More Cost Effective Use of Space
Fewer Expenses, More Durability
Greater Efficiency Because One Crane Can Replace Multiple Forklifts
(Visit the Cranes vs. Forklifts webpage for more details).
Reduced Costs
In constructing your crane(s), NAI uses quality parts that will require less maintenance and reduce your long term costs. You can also save money by taking advantage of our crane kits and various installation options.
Our mechanical brakes stop the crane gently and don't have brake pads that need changing (electrical brake pads need changing every 1-2 years). Our sealed ball bearings never need lubricating and the high grade synthetic oil in the gear boxes never needs changing.
We offer solutions to fit your budget and reduce costs for customers interested in handling some of the assembly. Our overhead bridge cranes can be purchased in one of three ways:
Durability
You can feel secure about the quality and durability of your NAI crane(s): our guarantee lasts two years.
Your class D crane(s) from NAI will last twice as long as a Class C crane, given the same duty cycle.

Please visit our "Why Are Our Cranes Unique" page for more information.