Gantry Cranes Help Support High Strength-Threaded Bar Business
May 2009
WOBURN, Massachusetts – Four gantry cranes were designed by North American Industries for Stressteel Threadbar Systems. The double leg double girder gantry cranes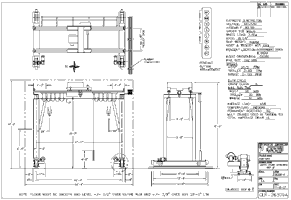 have a 3 metric ton capacity to lift and move the steel reinforcing threadbars, a product commonly used to strengthen concrete foundations and structures. Stressteel's Western Division sales manager and senior project manager from their sister company in Fairfield NJ, worked closely with North American Industries, who, in addition to crane fabrication, also handled the CAL-OSHA inspection and installation of gantries and track.
North American Industries engineered the cranes to allow material to pass through the gantry legs with no cross bracing between vertical members of the legs. This allows the threadbar to be maneuvered around Stressteel's facility in their two main bays with two gantry cranes in each bay. North American Industries designed the systems for multiple cranes to be used in tandem, with two cranes on each transmitter and both cranes in the same bay operating on the same frequency.
Stressteel's parent company in Germany – SAH, has a state-of-the-art facility and runs what may be the oldest continuously operating steel mill in existence. They are an ISO 9002 certified mill and multimillion dollar company with several locations.
North American Industries is a leading manufacturer of industrial overhead cranes including bridge cranes, gantry cranes, monorails, jib cranes, and custom-engineered systems. The company has been manufacturing competitively priced industrial cranes for military and municipal projects as well multibillion dollar private global corporations for over 40 years. North American Industries is a member of the CMAA (Crane Manufacturers Association of America) and the company's crane designs are frequently featured in HOIST magazine.
For more information, please visit www.naicranes.com.