Pick Our CraneBrain with Q&A
When should a heavy-duty gantry crane be chosen over other crane types or equipment?
Gantry cranes are similar to bridge cranes except that they run on a runway at the floor level. The bridge is supported by a pair of rigid steel legs which are carried by a pair of end trucks along the floor level runway.
Industrial Plants
A gantry crane may be a cost-effective choice if:
You need long runway structures of over 150 feet where the runway steel and foundation costs are very high.
You are currently in a leased facility and do not want to make the investment in a bridge crane runway structure.
You may be planning to move the crane in the near future.
You require a crane system that moves loads between the interior and exterior of your building.
Bridge and Elevated Highway Repair
Because gantries ride on "legs" that support the cross girders, trolley, hoist and load, they are spatially efficient. This makes them a great choice for bridge and elevated highway repair work. With other crane types or material handling systems, contractors must decide where to set them up so they won't be "in the way". When there is a body of water or uneven unreliable ground below, placing material handling equipment there is not even an option. Especially with existing roads and bridges, using traditional material handling systems means lanes must be inconveniently closed to traffic and construction hours are limited. The material handling system must be moved again to re-open lanes or to work on another area of the construction site. Recently, however, more contractors have discovered the potential of gantry cranes which eliminate virtually all of the problems of traditional material handling systems. Gantries can span over open lanes across the whole bridge. Their "legs" can ride on edges of the bridge allowing the crane to move forward easily as construction progresses further. They have the ability to power through and navigate inclines and the endurance for extreme weather, wind, and flexing of a bridge. Gantries can be designed for easy assembly and disassembly so they can be used for multiple projects.
A growing list of major projects for which NAI designed and built the gantry cranes:
- Bronx Whitestone Bridge
- Queens Boulevard Bridge
- Williamsburg Bridge
- Triborough Bridge
- Portable crane for work on Ohio River bridges
- Crane for the I-81 work in Harrisburg, PA

If you have a question that you would like answered in a future publication, please send to info@naicranes.com.
Crane Motors For Sale at Discount
Valued Customer,
North American Industries (NAI) will no longer carry stock of certain 2 speed motors for bridge cranes after the few remaining in inventory are sold. This is an opportunity for our customers to have the first chance to obtain a spare or replacement motor before our stock runs out. Please act quickly if you are interested as quantities are very limited. These motors are available at discounted prices in order to make room for other parts. Please consider obtaining a spare motor now at a very low cost.
Although we will no longer be stocking these motors, we will still be able to purchase them on your behalf from the factory but there will be extended lead times (possibly 8-10 weeks) and no discounts available.
Having the motor on hand when it needs replacing eliminates the problem of your operation being immobilized while waiting for a new part. If you do not have a spare motor on hand, it is highly recommended that you obtain one now.
If interested, or for further information, contact Bernadette Groves-Wright at 781-897-4104 or bernadettegw@naicranes.com. The list of motors is found below.
Motor Inventory (2-speed)

Hp

Voltage

Frame

Rpm

INV

1/2-1/6

208/230

56C

1725/540

20

3/4-1/4

208/230

56C

1725/540

4

3/4-1/4

460

56C

1725/540

5

1-1/3

208/230

143T

1725/540

7

1/-1/3

208/230

143

3450

4

1/2-1/6

208/230

56

3450

20

3/4-1/4

240

143

3450

8

1 1/2 - 1/2

208/230

143

3450

9

1/2-1/6

460

56

1725/540

4
__________________________________________
Crane Project Highlight
Military Projects Prove North American Industries' Cranes Are Built Army Strong.
North American Industries was awarded a project to design and build a 40/5 ton crane by the Army Contracting Agency Yuma Proving Grounds (YPG). Located in the Sonoran Desert of Arizona, Yuma Proving Grounds is a test facility for the US Army and one of the largest military installations in the world.
Current and recent projects of YPG include tests on advanced weapon systems, the AH-64 Apache helicopter, the Stryker Combat Vehicle, and unmanned aerial systems among many other critical technologies. The 40 ton crane provided by North American Industries for YPG will be used to lift and move equipment. Part of the contract also requires removal of the existing crane at YPG and installation of the new crane North American Industries manufactured to the specifications required for the location. North American Industries regularly works with all levels of government and branches of the military, further evidence that North American Industries has a reputation for durable well-engineered material handling products
One recently completely installation for a city governement project is pictured below: Outdoor marine environment NEMA 4X stainless steel UV sun cover 5 ton bridge crane for city project in FL.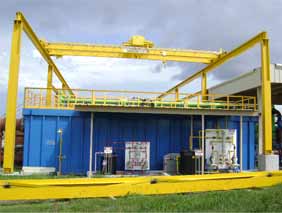 When is Your Annual Inspection Due?
In any business, there's a lot on your mind, so mark your calendar now to remind yourself when to schedule your annual inspection. Want us to take care of remembering for you? Give us a call and we'll contact you when the date nears.
800-847-8470 ext. 131
The service department (CRISP) now offers easy online training for your convenience. Receive a certificate after completion from a well-respected name in the crane industry.

Discuss your crane needs with North American Industries. We spend the time to understand your particular application.
To submit a new inquiry or speak with a sales engineer, call 800 847-8470 ext.117 or use our web form