Win Sizeable Finders' Fees through New Referral Program
Let us know of someone looking for a crane quote and earn rewards
North American Industries is implementing a new program that pays finders' fees for referrals of new crane inquiries that turn into sales. Everyone is eligible to participate and earn worthwhile incentives. The process is simple: call 781-897-4117 and deliver the contact or project information of someone you know who is in the market for a new crane or crane services. Ask about the referral program finder's fee at the time of delivering the lead in order to qualify. You must also be the first participant to submit the lead, so don't delay. There's no limit to the number of leads you can submit to earn finders fees. This program is designed to widen our communication network, give back to the friends of North American Industries for their support, and provide motivation to continue and deepen our connections. It's simple, straightforward, and worth your time – so start earning the rewards!
The referrals are not limited to new cranes, but also include crane services such as inspections, training, repair, etc. They should be related to industrial crane types such as bridge cranes, monorails, gantry cranes, or custom-engineered overhead cranes. You cannot refer us to yourself… it must be another contact or project other than a crane quote you're requesting for yourself. Please call or email even if the information you have about the lead is limited… there is no specific amount of data you must submit to qualify, but the rewards are earned with sales so share as much detail as you have available.
Call to discuss a specific project or contact you wish to submit. Alternatively you can send an email – just don't forget to inquire about the referral program in your message: info@naicranes.com
Crane Photos of the Quarter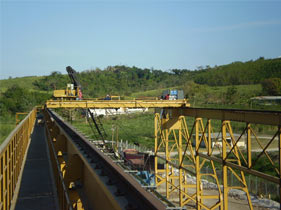 __________________________________________
Crane Project Highlight
Large Hydroelectric Powerhouse Project in Guatemala Requires Overhead Crane and Contractor Seeks North American Industries to Design and Manufacture the System
The $226.8 million 94 MW hydroelectric project in Central America, referred to as Hidro Xacbal Project, is expected to help protect Guatemala's electricity market by softening effects of rising combustible fuel costs. After the anticipated completion in 2010, the new hydroelectric plant could produce a significant amount of the country's electricity. A 100 metric ton double girder bridge crane with a 25 ton auxiliary hoist is required as part of the project for installation and maintenance of the facility. The crane is designed to pick up major equipment and move the loads to the powerhouse erection area as well as load or unload trucks with the largest piece of turbine generator equipment. One of the main contractors responsible for the hydroelectric project is an Israeli headquartered construction company who sought North American Industries to design, manufacture, install and test the crane system. North American Industries engineers designed the bridge crane with a catwalk and NEMA 4 watertight enclosures. The crane installation crew has allotted 18 days for erecting the complex crane system.
North American Industries is a leading manufacturer of industrial overhead cranes including bridge cranes, gantry cranes, monorails, and custom-engineered systems. The company has been manufacturing competitively priced industrial cranes for military and municipal projects as well multibillion dollar private global corporations for over 40 years. North American Industries is a member of the CMAA (Crane Manufacturers Association of America) and the company's crane designs are frequently featured in HOIST magazine.
___________________________________________
Don't Skip Inspections to Reduce Costs
Safety inspections are a requirement and reduce long-term costs by keeping your employees safe and your crane productive. Ask us about multi-year contracts and other ways to keep inspection costs as low as possible. Want us to provide a competitive price quote for your periodic crane inspections? 781-897-4131.
The service department (CRISP) now offers easy online training for your convenience.

Hot Metal Crane - Mysteries Unlocked
The term "hot metal crane" derives from one of the primary applications in which molten metal is poured into ingots, castings, and sand molds. These cranes are also referred to as "ladle cranes". Hot metal cranes can be found in foundries, steel mills, shipping yards, and scrap yards.
The machinery is designed to be structurally sound and very sturdy. Electrical controls are designed to be exposed to high temperatures and extremely dirty conditions. These cranes can vary like all other material handling cranes in a number of areas including physical size, lifting capacity, configuration, sophistication, automation, and most importantly safety features.
Just a few of the features that might make the "hot metal" cranes a different breed are:
Heat shields — hoist motor, hoist gearcase, control enclosure, or any other sensitive electrical device that cannot withstand the ambient heat.
Heat shield — bottom block. This is an anti-spatter shield only, and it's used to protect the wire rope, sheaves, and hook bearings.
High-temperature wiring (SMRL). Hard piped conduit is preferred, wherever possible.
Secondary upper power circuit limit switches to cut power to the hoist motor if the block goes beyond the primary upper limit.
8:1 safety factor is required for wire ropes.
Wire core center for wire ropes.
Warning device for all motions.
These extraordinary machines called "hot metal cranes" are the foundation to moving the world's steel supply and should get credit for helping to shape our world as we see it today.